Registration is now open!
ISACS is offering virtual educational sessions for boards and heads: Trustee Series 2022-23. A one-hour webinar on important governance topics will be held each of the following months: August, September, October, November 2022 & January – May 2023. In December and May there will be bonus sessions in a roundtable format specifically for incoming & current board chairs.
Trustee Series Brochure
2022-23 Trustee Series Brochure
Audience
For trustees of independent schools & heads of school.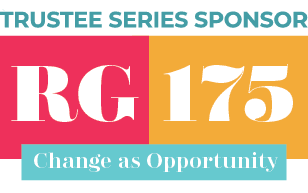 RG175 is a retained search firm focused on Head of School and Senior Administrative positions in Independent Schools. All consultants are long serving Heads and/or Senior Administrators.
John Farber, Managing Partner
How to Register Your Board
Please remember that only ONE person per school needs to register which will provide your entire board and head access to the Trustee Series.
This person will become the contact person and receive additional communications from ISACS throughout the 2022-23 year including links, important reminders, and post webinar resources. This contact person should share all details with the head of school and board of trustees.
Registration Fees & Details
ONLY ONE "TRUSTEE SERIES" REGISTRATION IS NEEDED PER SCHOOL FOR FULL ACCESS TO THE 11 ONE-HOUR LIVE WEBINARS AND RECORDINGS FOR YOUR HEAD AND BOARD.
$600 per school for ISACS member schools.
$700 per school for non-member schools.
All trustees and heads who plan to attend the live presentation MUST pre-register on Zoom for each webinar, see "Important Registration Info" tab above on how to pre-register your trustees and heads for each webinar on Zoom.
To accommodate busy schedules, webinars will be recorded and available to registered schools until June 30, 2023, unless otherwise noted.
Cancellation & Questions?
Cancellation Policy for Virtual Programming
ISACS does not provide refunds for the Trustee Series.
Questions?
Contact Karen Zeitlin at karen@isacs.org or Jacob Isaac at jacob@isacs.org.